Open House for 2018/19 School Year
Now accepting enrollment for September 2018! Want to find out more? Come and meet the teachers, see our renovation of historic St. Edward's Chapel, and learn about our Montessori materials and curriculum.
All are welcome!
Thursday, February 8th, 2018 3:30pm - 6:30pm
- and -
Saturday, February 10th, 2018 9am - 11:30am
Click for directions: 1129 Bellevue Ave. Eau Claire, WI 54703
If you're unavailable either of the above times, feel free to contact us for an individual tour.

Start your child's lifelong love of learning here
What is a Montessori Children's House?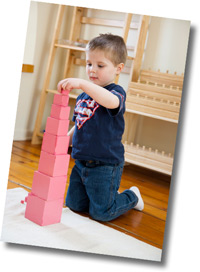 "Children's House" is the term most Montessori schools use to describe classrooms for children ages 2½ to 6. Each Children's House may put a different emphasis on aspects of the Montessori teaching philosophy. At St. Edward's, we focus particularly on the following aspects:
A Prepared Environment — When you enter a Children's House, one thing you will likely notice is that everything is at the child's level. Every piece of work has been carefully selected and designed for a child to complete the work independently, leading to more self-sufficiency.
Freedom — In a Montessori classroom the child has the freedom to choose work as he or she actually wants to do it. However, this does not mean the child can do whatever they like; this freedom is set within the limits of the prepared environment and clearly understood rules.
Hands-on Materials — A Montessori Children's House should have an abundance of hands-on materials for all of the subject areas. A student learns through experiencing and investigating these materials, and every subject begins with hands-on materials. But as the child begins to grasp the concept, the work gradually progresses to a more abstract focus.
Learning Through Experience — Dr. Maria Montessori's philosophy asserts that experience is the best teacher. In a Children's House, the child is presented a piece of work, and then they are free to repeat that work independently, whenever they like. Montessori observed that children have a deep need and love for work — and in fact the exercises that an adult might consider "work," a child will consider play.
Social Development — In Montessori classrooms, development of social and community awareness is a key part of the education. This emphasis is especially important in a Children's House, where younger minds are first awakened to a classroom setting — and a new, larger world outside of home and family.
Multi-age Classroom — A Montessori Children's House consists of mixed ages, usually from 2½ to 6. The multi-age setting works to reflect the same diverse environment many children experience at home and in their community. In this setting, younger children learn from expeienced older peers, and the older ones' knowledge is reinforced as they teach to the younger ones. Children learn to respect different abilities and interests, to solve conflict, and to enjoy being together.
Nature — The Montessori method emphasizes the value of developing a love and understanding for the natural world, and an appreciation of the beauty and harmony found in nature. Natural science and outdoor education is an important element of the St. Edward's Children's House experience. Our wooded 1-acre setting includes gardens and enclosed space where children have outdoor time for play, exploration, investigation and reflection.
About Our Teachers
Elizabeth Harder — Founder and Teaching Assistant: Elizabeth founded St. Edward's Montessori School to provide an alternative for parents wishing to prepare their children for Montessori 4K and beyond. Elizabeth is an M.A. graduate who is currently pursuing a Master's in Children's House Montessori Education at the University of Wisconsin River Falls. She also holds a certificate in Elementary Montessori education from NAMC. Before moving to Eau Claire, she home-schooled three (of her four) children using the Montessori method. She is also currently a parent member of the Governance Board at Chippewa Valley Montessori School. Elizabeth is very grateful to have the opportunity to create this school and to have the chance to serve the children and families of Eau Claire.

Barb Barkley-Ellingson — Lead Teacher: Barb has been a Montessori teacher for the past 25 years. She is Montessori certified to teach in Children's House (ages 3-6), Elementary I (ages 6-9) and Elementary II (ages 9-12). To date, she has had 14 years' experience teaching at the age 3-6 level, including 7 years as owner of Hearts 'n Hands Montessori Daycare. She worked for the Eau Claire School District at Chippewa Valley Montessori Charter School as a Children's House teacher and an E1 teacher for 11 years, including being Head of Instruction for 3 years. She loves teaching Montessori and is proud to be a part of starting this new venture at St. Edwards Montessori School.